XBundle::Assemble is a unique graphical tool that allows users to reliably manage complex document bundle sets.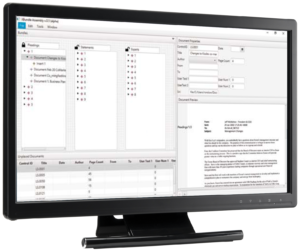 Its desktop-based interface has been built with simplicity and ease of use in mind, and is designed to mimic paper bundles by modelling virtual lever arch folders.
Bundles are built by dragging and dropping files into the system, or by bulk import from any document review platform.
Bundles, such as previous sets for interim hearings in the litigation, can be displayed onscreen as an at-a-glance view, assisting in the prevention of wasteful duplication.
Completed bundles are custom-paginated and can be exported as print-ready PDFs or pushed directly into trial presentation software such as XBundle::View.
Cross references within the bundle can be added to the document margins – these are converted to dynamic hyperlinks upon export to XBundle::View, or branded onto the documents if exported to PDF.
"The copies of the witness statements, affidavits an expert reports in the bundles should have written on them, next to the reference to any document, the reference to that document in the bundles." – Chancery Guide (2016), Paragraph 21.59
XBundle::Assemble automatically manages the creation and generation of PDF page insertion packs, ready for distribution to parties.
XBundle::Assemble is simple to use behind the firewall on your desktop or network, giving you complete dashboard visibility of the bundle set to the full team and outside counsel before committing to paper or electronic trial presentation.
Key Features

User
Friendly

Drag & Drop
Interface

Document
Preview

Create Cross
References

Dynamic
Hyperlinks

Automated
Pagination

Custom Table
of Contents

Export Print
Ready PDFs