XBundle::View displays electronic evidence as side-by-side pages without the need to scroll nor zoom1.
"Documents referred to in, or exhibited to, witness statements, affidavits and expert reports should be put in a separate bundle and not placed behind the statement concerned, so that the reader can see both the text of the statement and the document referred to at the same time." – Chancery Guide (2016), Paragraph 21.60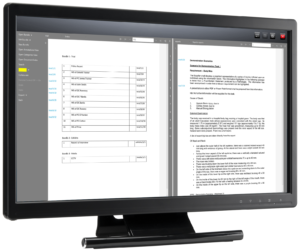 XBundle::View stands out amongst other evidence presentation systems because of its "hybrid cloud" technology. It runs as a standalone program (though it can be connected to a local area network) and is not reliant on an internet connection.
If the internet is slow or absent (e.g. in a busy court building where many computers need to load documents over a limited variable internet connection), XBundle::View bypasses the internet and loads the bundle from an encrypted USB drive.
Should the Court internet connection become unavailable or slow, XBundle::View keeps going – long after other evidence presentation systems have frozen!
Where an internet connection is available, XBundle::View connects to the cloud and uploads/downloads any bundle updates. Users can also collaborate over the cloud via a chat panel, which features note sharing.
The bundle index and any cross references are automatically hyperlinked, allowing for easy navigation. When connected to a local area network, all instances of the bundle can be synchronised and one user can be appointed as the 'page turner', keeping everyone on the same page.
XBundle::View is a neat solution to the enduring problem underlying pure evidence presentation systems based on traditional cloud technology: is it really safe for the parties to place a massively expensive trial at the mercy of a public internet connection?
With hybrid cloud technology, XBundle::View answers the question by coupling the reliability, resilience and guaranteed performance of the offline world, to the flexibility and convenience of the cloud.
1With the use of wide screen technology, XBundle::View displays documents as side-by-side full A4-size pages, eliminating the need to scroll up/down or zoom in.
Key Features

Side-by-side
Document
Comparison

In-built Media
Player

Search
Documents

Annotate &
Highlight

Team
Collaboration

"Hybrid Cloud"
Technology

Real-time
Transcription

No Internet
Connection
Required