This is how XBundle View looks in a Zoom meeting!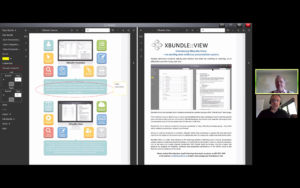 The Courts are increasingly relying on technology for the provision of virtual or remote hearings and electronic bundles.
XBundle has solutions to assist you in the performance of any virtual trial or remote hearing.
XBundle::Talk is an encrypted audio/video communication service, hosted on our own UK based cloud servers, ensuring complete privacy so communication is not intercepted or unintentionally shared.
XBundle::Cloud is a bespoke virtual data room where hosted documents can be viewed without the need for downloads and without any size limit.
In addition our electronic bundling solutions can ensure that the use of bundles in virtual trials is no more difficult than using a hard copy bundle set.
XBundle::Assemble creates paginated, easy-to-navigate bookmarked PDFs which are text-searchable user-friendly and in compliance with Court requirements.
XBundle::View displays two documents side-by-side for easy comparison, supports multimedia and displays Excels in near native form, allows for a nominated 'page turner' and eliminates the need to pass notes via email or social media such as WhatsApp, as notes can be passed between teams using the software itself in a secure environment.
Virtual or remote hearings are simplified when you use XBundle.