Without an efficient and considered process in place, preparing electronic bundles for court and counsel can create a lengthy and costly headache that legal teams should not need to deal with.
XBundle::CREATE is an innovative trial preparation and presentation platform in the Cloud, designed by industry leading experts to solve this problem.
Introducing XBundle::Create – Key features and benefits
XBundle::Create is a unique software explicitly designed to give legal teams the ability to create their own court-ready electronic document bundles.
Unlike other platforms, XBundle::Create has been built out of our original in-house utilities and is now offered for client use. Clients gain the unique advantage of an effective platform coupled with the highest level of support when needed.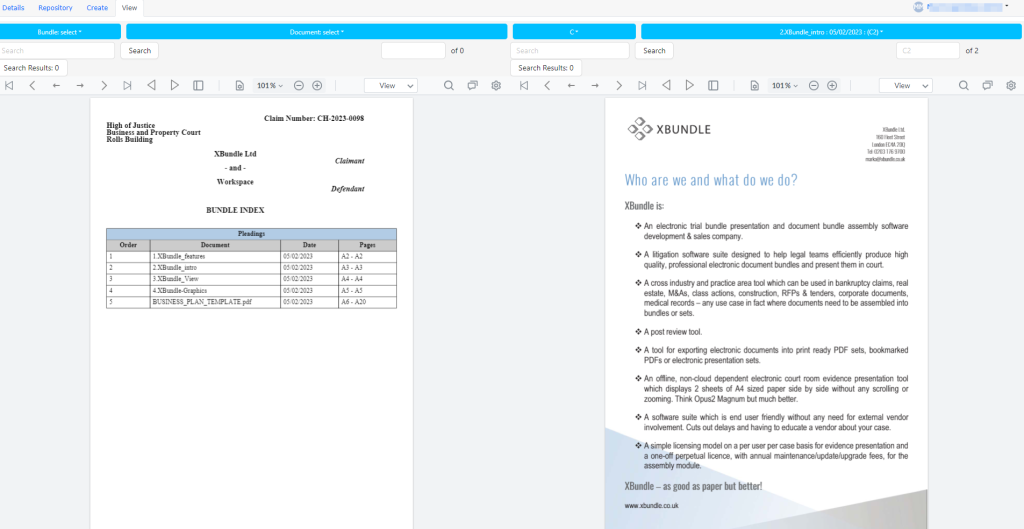 Smart eBundles with intuitive hosting dashboard
Drag and drop – Build bundles quickly and efficiently with simple drag-and-drop technology.
Export to PDF – Trial-ready bundles can be exported to PDF or viewed within the platform in real-time.
Dynamic Cross Referencing – Dynamic cross-referencing that automatically updates when you add new documents to a bundle, meaning you only need to create cross-references once.
Page Ranging – Automatic page ranging, including automatic suffixing of insert pack documents.
Effortless page assembling – instant indexes, hyperlinks, and bookmarks.
Hosting Platform – View and present all your 'active' matters within the one platform.
Expert Presentation Functionality
Side by side viewing – View two full A4 pages side-by-side or switch to one page mode.
Annotation options – Annotations can be made before and during the trial and will be saved for an individual user or user group, with custom permissions.
Collaborate – Work seamlessly with the case team, counsel, and stakeholders.
Powerful search – Powerful search options including full keyword search within documents or annotations.
Work as a team – Collaboration tools that make it easy to share notes and work as a case team.
Version control – We make it easy to make last-minute changes and ensure all documents are the latest versions.
Compliant, Accurate and Secure
XBundle is committed to the security of client data and applies the best-in-class security applications to ensure we provide robust data security controls. XBundle utilises Amazon AWS and Auth0 as part of our secure platform. We secure your data and allow you to manage user access and allocation. We are committed to protecting your data and privacy.
XBundle is an ISO:27001-certified organisation.
To find out how we helped a client reduce court bundling prep from 2.5 days to 2 hours get in touch with our team for a chat and to see XBundle::Create.
Email – info@xbundle.co.uk Phone – +44 (0)207 871 3125